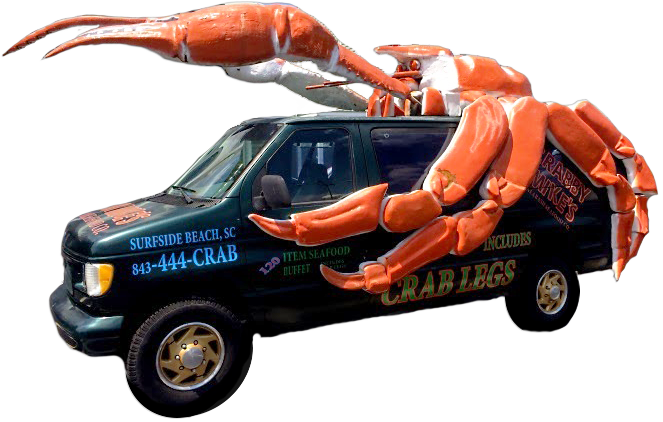 Motorcoach Group Sales
For 28 years, Crabby Mike's has featured an All-You-Can-Eat Buffet with the freshest foods available.
From the moment your clients enter the "Fishing Village" in Crabby Mike's, they can experience eating in either our undersea fishing world or under the awnings of the village shops and they will be part of the experience itself. They may even enjoy a legal beverage with the "Old Salt" in Crabby Mikes' Lighthouse Tavern!
Crabby Mike or another manager will board your motorcoach to greet your clients and give them an overview of the great experience soon to come.
Upon entering, your clients will be greeted with schools of swimming fish throughout the restaurant directing them to our SELECT SEAFOOD that's not only BROILED, but also STEAMED, FRIED, and BOILED. For a real treat they can visit our cold bar for fresh shucked oysters and other seafood delights! AND don't forget we have included Crablegs in our Famous All-You-Can-Eat Buffet!
Now maybe everyone in your group doesn't like seafood - a thought that Crabby Mike doesn't really understand! don't fret! We also have plenty of FRIED & BAKED CHICKEN, ROASTED PRIME RIB, RIBS, PASTA, and an Unbelievable SOUP and SALAD BAR ----- don't forget! the DESSERTS! Check out our menu and you will agree that CRABBY MIKE'S has the best of everything!
Your groups will thank YOU for sending them to Crabby Mike's!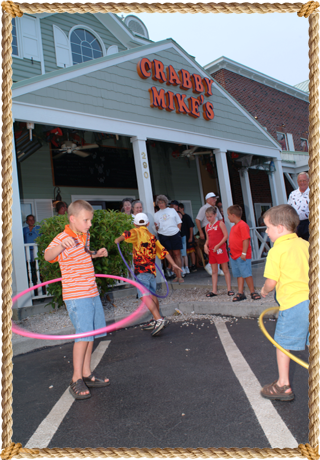 We Definitely have the best buffet on the beach!
(We also have the best "legs" on the beach!)

We Will Always Provide You and Your Group with:
Southern Hospitality
Excellent Service
Relaxed Atmosphere
Great Experience
Incredible Food
Call today at 1-800-767-0918
Ask for Sharon or Email us for Group Rates
and for our new group brochure.
Crabby Mike's Group Policies
Must have 25 or more adults to obtain group rate
Complimentary meals for driver and escort with groups of 25 or more paid adults
A 50% deposit is required at time of reservation.
Deposits fully refundable 48 hours prior to reservation date
Payment in full due at time of meal unless other arrangements have been made (company check, cash, VISA or MasterCard only.)
Final count required 24 hours prior to arrival
All cancellations must be confirmed in writing by email or fax, you will receive back an acknowledgement
Call today at 1-800-767-0918
or Email us for Group Rates
The fine print, but large enough to read!