WE'VE GOT LOCATIONS EVERYWHERE!
SURFSIDE BEACH, Myrtle Beach, New York, Dublin, London, Paris, Rome, Cairo, Calcutta, Tokyo, Buenos Aires, Mexico City, San Francisco, Chicago, Atlantic City, Atlanta, Phoenix, Hartford, Pittsburgh, Columbus, Los Angeles, Tulsa, Buffalo, Washington, Nashville, and Chios, Greece!
----- BUT if you REALLY want to eat with us there is only
ONE REAL

CRABBY MIKE'S!

It is in SURFSIDE BEACH, SC.
So CRABBY MIKE drew the map below to show you where you will find the best seafood buffet in the Myrtle Beach, SC area.. We have over 120 Items on this All-You-Can-Eat Buffet and all the CRAB LEGS you care to eat!
We are Located at 290 Highway 17N, Surfside Beach, SC 29575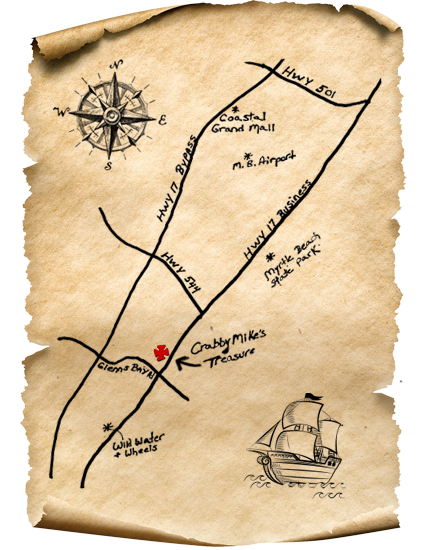 We made this one - it IS easier to follow!